Coeloglossum viride, pussikämmekkä
Coeloglossum is now called Dactylorhiza viridis. Plant is only about 20 vm heigh or little longer. It has few round leaves at the pase of the stem. Flowers are very beautyful in shape, the lip looks nice and it is hidden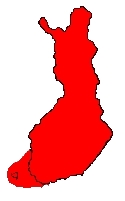 besides the stem. In southern Finland the plants are usually green and in Lapland reddish. The tuber is divided just like in Dactylorhizas.

C. viride is becoming increasingly rare in southern Finalnd as old grazing-woods are getting older. In Lapland this plant is still common plant with "fjeld-Betulas" and in other suitable places.

The plant flowers beginning from June depending on where it grows in.