Dactylorhiza (incarnata ssp.) cruenta, verikämmekkä
D. cruenta is low, sturdy species with handsome flowers. The flowers are dark and look even more dark beacvuse of highly spotted scale emerging from inflorescense. The leaves are spotted in both sides, which is guite exeptional in Finnish orchids.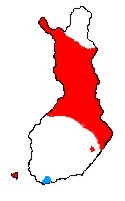 Othevice the plant look guite a bit like D. incarnata.

Previously this has been known as a subspecies of D. incarnata with a name D. i. ssp. cruenta.

This species is not always to know. D. incarnata var. hyphaematodes and D. lapponica look guite a lot like D. cruenta, as they both have (sometimes) spots in the boths sides of the leaves. It is guite easy to tell apart from D. alpponica, as that species is usually only sptted at the upper side. The inflorescense is also tighter and smaller-flowered in D. cruenta than in D. lapponica. D. cruenta is also more sturdy.

But problems exist with D. i. var. hyphaematodes. It has always spots in the both sides of the leaves. It seems to be common at least in Ahvenanmaa. It is possible that D. cruenta does not even grow in the island. These plants can be told apart from the D. cruentas from a distance, as D. incarnata does not have the sturdy appearence of D. cruenta., but exspecially in dry lands, where D. incarnata is smaller, some problems may exist. In the number 3/96 of Finnish orchid societys Orkidealehti there is writing about Dactylorhizas, and these are mentioned as a differences between these two plants: "D. inacarnata has the lowermost leaves (the most lowest is ignored!) more than 5 times longer than theyre wight. They are almost staight, and vertical. If the plant has spots in the both sides of leaves the plant is var. hyphaematodes. D. cruenta instead has leaves less than 5 times longer than theyre wight (the most lowest leaf is ignored!), from vertical to guite upwards and little curved at the base". The translation misses some information as I have no proper dictionary awailable right now, but that should give you an idea.

D. cruenta grows at least in eastern and northern Finland, and it may also grow in Ahvenanmaa. It is never common. It doesn´t grow in southern parts of Finnish continent. It reguires lime bog to grow in.

It flowers in the same time as D. incarnata.

The species is protected in Finland excluding Ahvenanmaa.