Epipactis atrorubens, tummaneidonvaippa
This is one of the most important of Finnish orchids. Still about 20 years ago it only grew in Kuusamo and in few areas in eastern parts of Finland. In year 1985 it was suprisingly found from Hanko, famous area of Tvärminne, growing along a road. We went to this place in summer 2000 and the area was fylled with tiny seedlings. Only little more than ten plants was flowering, but after lets say ten years this area will be a spectacular sight, supposing that plants will be kept undisturped.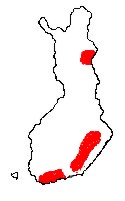 Right next to these plants there also grows the only Orchis militarises which have made Finland into theyre home. We couldn´t find those Orchises. This was the only time when I have seen E. atrorubens in flower.

We have also seen this species in Lappeenranta, where it is also a newcomer (from us four, Sinikka and Liisa were there to find it). We went there this summer in early July, but the plants didn´t flower yet. The plant has also been found from Lohja in few places, other which have destroyed... hopefully it will some day be common in everywhere where there is sandy and limey earth, and where sun reaches well.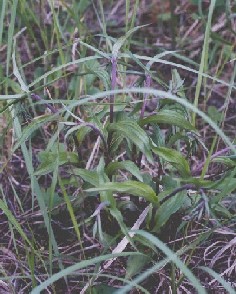 This species is protected in Finland.

The plant has dark violet-green leaves and beutyful, dark flowers. The plant is easy to tell apart from E. helleborine. These species don´t grow naturally in same areas, but now they can been found together. It is possible that they would have crossed in Lappeenranta. The lowest photo shows a plant which looks like something between these two. It is theyre mix in all ways, even in what it comes to the woolness of the ovary. This hybrid (E. x schmalhausenii) would not have been found before from Finland. But people who I have shown this photo to are not sure of that what plant it is.